Made in Germany
Certified & tested quality for the highest demands
Quality & service
Controlled Quality
according to a certified quality management system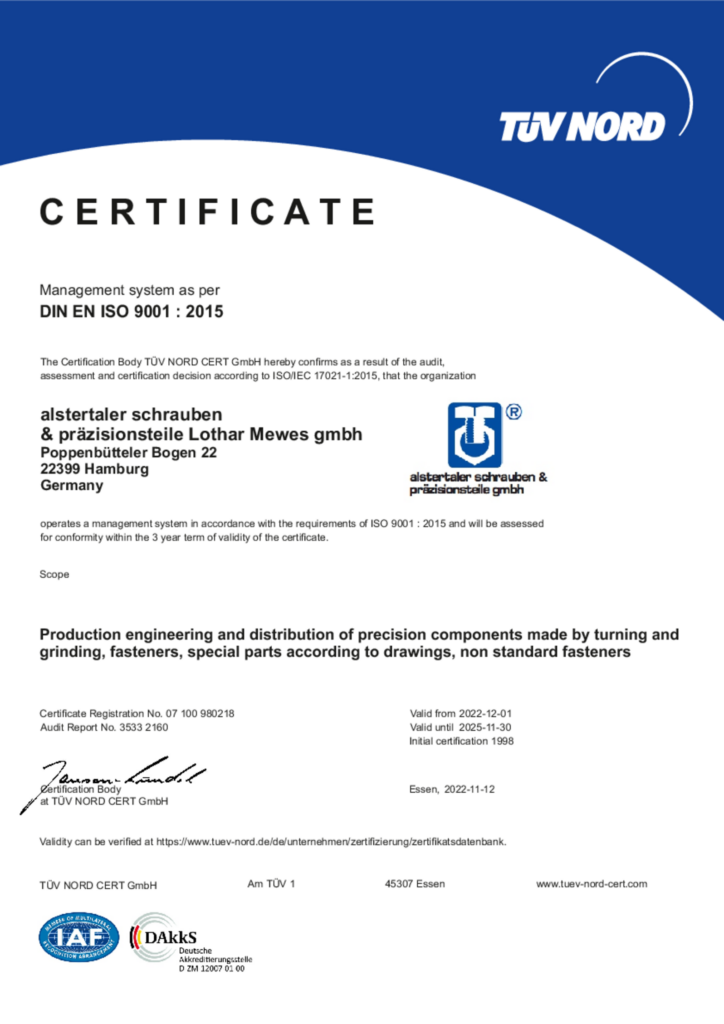 Even though we have been known for a long time as the specialists with the highest standards with regard to quality, the quality of our screws, precision parts and our work was further increased with the introduction of our EN ISO 9002 Quality Management System in 1994 and proof of this has been documented for our customers.
In order to ensure that it stays this way in the future, the System is regularly inspected by an independent company.
Throughout the whole working process, over 40 members of staff ensure the smooth running of operations. Specialist personnel, technicians, quality managers, logistics managers and customer consultants dedicate all their efforts to providing you with the best possible service.
Just-in-time-delivery
We supply our precision parts from Spitzbergen to Ushuaia, direct to your production hall as well as to construction sites in Istanbul!
And this is not just at anytime, but according to precisely agreed schedules. Professionalism, service and flexibility are our strengths.
Warehouse manager for special parts & parts according to drawings
Our particular service: we stock your standard and special parts. On a permanent basis, we have millions of customer-specific standard parts and special parts ready for call-off.
This way, our customers make real savings through framework agreements and permanent availability of their parts.
Should you wish us to do so, we take over your whole logistics arrangement, taking on the complete procurement management and parts management for you.
We actively report to you when you have to re-order, so that you can focus on your core operations.
Your advantages at a glance
permanent availability of your parts: consequently no waiting time for deliveries
no tying-up of your valuable warehouse capacity
dependable management of parts, i.e. timely notification of reaching minimum stock level / stock level at which you normally re-order
Your personal offer
Do you need a personal offer? You can send us a message right here. Also attach the appropriate technical drawing to your message. So we can put together the right offer for you.