Special screws and special bolts
Diverse materials for special use
Special screws and special bolts
We are your warehouse manager for special parts and parts according to drawings
The alstertaler schrauben & präzisionsteile lothar mewes gmbh is your point of contact not only for first-class screws, parallel keys, washers and other articles in standard design, but also with regard to special stud bolts, hanger bolts, screw bolts and much more. Furthermore, you can have triangular bolts and other bolts manufactured as drawing parts. We offer you a maximum of flexibility – this also applies to the selection of possible materials or treatments. Whether you need hanger bolts made of steel, triangular bolts made of aluminium or stud bolts with surface finishing: Together with you we will find the ideal solution for production, storage and delivery as well as assembly of your special screws and other special design products.
What are special screws and special bolts used for in mechanical engineering?
If standard quality is not enough for you and you need special screws or special bolts for mechanical engineering, alstertaler schrauben & präzisionsteile GmbH is exactly the right partner to contact. Our range includes products for all requirements and creates reliable connections in all branches of industry. As a manufacturer of special screws, we can react within the shortest possible time and produce the desired screws according to your drawings.
Which special screws are available from alstertaler schrauben & präzisionsteile lothar mewes gmbh
As specialists for screws and standard parts, we offer you a wide range of special screws made of different materials and for a variety of applications. Here we present some product examples from this area – made of steel and other materials:
Hanger bolts: made of steel, stainless steel or with coating (galZn)
Triangular bolts: made of steel, stainless steel, brass or with coating (galZn, galNi)
Steel stud bolts
Stud bolts for many applications
Take a look at our extensive catalogue for more details and other special bolts. Feel free to contact our experts for any questions!
Our service offer for all things concerning screw bolts and hanger bolts
With regard to special bolts, you can benefit from our extensive range of services. We are happy to bundle an individual package for you with blanket orders, warehousing and other services. Find out more about the options alstertaler schrauben & präzisionsteile gmbh can offer you:
Blanket orders guarantee an optimal price-performance ratio
Possibility of assortment composition of triangular bolts, hanger bolts etc.
Stock keeping of stud bolts, screw bolts etc.: no storage costs for you
Wide range of assembly services, budget-priced thanks to our own fixture construction department
Demand management, optimal availability of special screws or stud bolts
Just-in-time delivery exactly on the appointed date
We offer our top service not only for special bolts, but also for standard parts and the other items in our range. Please contact us for a non-binding offer.
Background knowledge of special screws
The high-quality alstertaler schrauben & präzisionsteile gmbh special screws come in a wide range of variants and are designed to suit their respective areas of application. Learn more about some different types of special screws, their specific properties as well as areas of application. As mentioned above, you will find detailed information on available materials and more in our catalogues. Of course, we also have corresponding documents for standardized fasteners and other items available in the download area, as well as certificates and more. With just a few clicks you can open and/or download the corresponding documents on your mobile device or laptop.
Which materials are suitable for special bolts?
Our comprehensive range of materials for stud bolts, triangular bolts, screw bolts, etc., which includes not only aluminium, steel and stainless steel, but also brass, copper, Inconel, Hastelloy, titanium and tantalum. This enables almost universal use in almost all industries. Whether you want to order the required bolts, have triangular bolts manufactured according to your drawing or take advantage of the comprehensive service bundle including logistics and assembly – rely on the proven product and service quality of alstertaler schrauben & präzisionsteile gmbh!
Your personal offer
Do you need a personal offer? You can send us a message right here. Also attach the appropriate technical drawing to your message. So we can put together the right offer for you.

What forming processes does alstertaler schrauben & präzisionsteile gmbh offer for special screws?
In the production of our special screws, we rely on metal-cutting or non-cutting forming, which in turn distinguishes between hot forming and cold forming. Metal-cutting forming is particularly suitable when tighter tolerances are required or special geometries are to be implemented. Cold forming (also cold extrusion) is the first choice for large screw quantities whereas hot forming is suitable for the production of particularly thick (> M27) or long (> 30 cm) screws. Take a look at the respective sub-pages on our website for detailed information on the forming processes we offer.
What are stud bolts suitable for?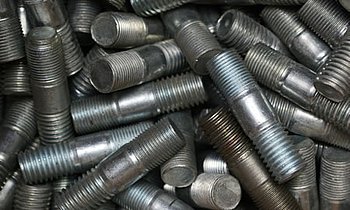 These metal studs are firmly connected to a structural element with their cutting circle surface. This makes it look like they are "standing" on the component.
Several machine components can be connected to each other via the stud bolts. Studs are used as fastening parts in various fields, for example in mechanical engineering or electrical engineering.
They offer the advantage that they remain in the machine part and thus minimize the risk of damaging the fastening thread by frequent tightening and loosening.
Why use hanger bolts?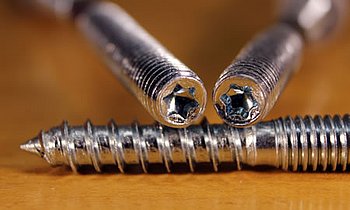 Hanger bolts are special fastening screws that have a dowel thread at one end and a metric thread instead of a screw head at the other end. Between them is a hexagon so that the screw can be tightened using an open-end wrench. The advantage during assembly is that the screw axis only needs to be accessible from the side in order to set the nut – easily and permanently even in the tightest of spaces. In addition, the screw can be easily dismantled without unscrewing the dowel screw connection and damaging it as a result. Hanger bolts are versatile and used, among other things, for simple fastening of construction elements of various types to concrete, masonry or wood. A typical field of application is stair construction.
What are triangular screws?
The so-called triangular screws from the range of security technology have, as the name suggests, a special appearance. The unusual triangular head shape of these special screws gives them their name and requires a special key to loosen or fix them. Because of this, it is not possible for unauthorized persons to easily move the special screws. In addition, they usually have a metric thread with a shank. Thus, triangular screws are often used for door locks or parking lot bars, but also for barrier posts in pedestrian areas. Due to this, they are also known as bollard bolts. Due to their everyday presence in public spaces, they have a high recognition value
Your experts for special screws: alstertaler schrauben & präzisionsteile gmbh
With decades of experience in range of special screws, standard parts and other components, we are your experts in all matters relating to fasteners and more. Contact us with any questions about specific products or delivery times. Do you need special screws for mechanical engineering? Special screws in small series? Do you need them quickly? Contact us – we are happy to take on challenges of all kinds and make many things possible for you!