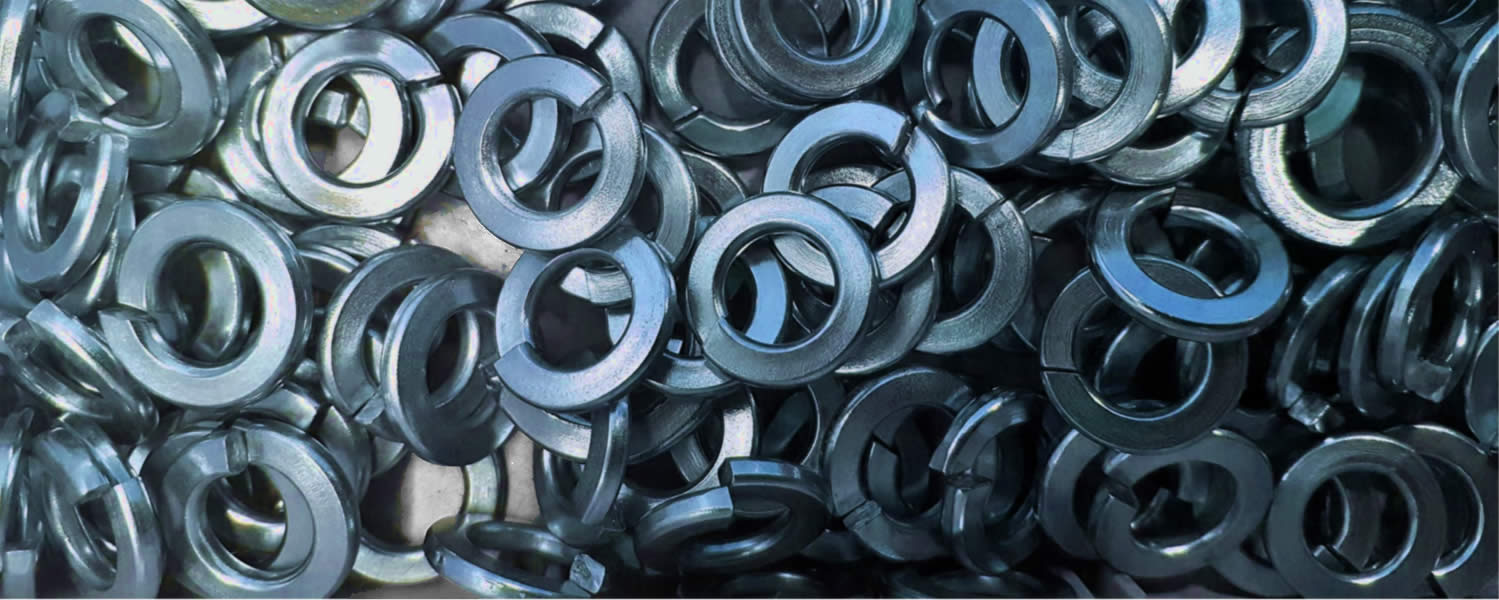 Spring washers and washers for different applications
High precision and first-class quality "Made in Germany"
Washers & Spring washers
of various materials
In our large assortment of stamped parts we offer an extensive selection of various washers as well as a variety of spring washers for many different applications. If you are looking for clamping washers, square washers, shim washers or other washers: alstertaler schrauben und präzisionsteile GmbH is exactly the right partner to contact.
In addition to high precision and first-class quality we attach great importance to an extensive range of available materials. With stamped parts made of steel, plastic, copper and many other materials we meet the requirements of the various fields of application, for example the automotive industry, mechanical engineering or air conditioning technology.
Convince yourself and discover our diverse range of products!
Our assortment of spring washers & washers:
Washers for metal and washers for timber connections
Shim rings and lock washers
Square washers, washers in round design
Supporting rings and tension washers
Toothed, rosette and serrated lock washers
Axle lock washers
Spring washers for cap screws
High tension spring washers
Centering rings
What distinguishes our portfolio?
In the extensive portfolio for stamped parts alstertaler schrauben und präzisionsteile also – among other things – various washers and rings made of various materials, for example steel or stainless steel, brass and furthermore articles made of copper, titanium, aluminum as well as hastelloy, inconel or tantalum.
Further information & details about spring washers and washers in the product catalog
You will find further details on the individual items in our product range in our catalogs – available for download in convenient PDF format.
There you'll find all available washers and spring washers as well as other products, sorted by type and material properties of the individual articles. In this way, you will also find special products, for example made of special materials, without much effort.
Feel free to contact our experts for any questions. We offer you competent advice – based on our expertise. Get in touch with us!
Ihr persönliches Angebot
Benötigen Sie ein persönliches Angebot? Sie können uns hier sofort eine Nachricht zukommen lassen. Fügen Sie auch gleich die passende technische Zeichnung an Ihre Nachricht an. So können wir Ihnen direkt das passende Angebot zusammenstellen.

Background knowledge – functions, types and possible applications
What is the function of washers?
Washers are generally used to transfer the force of the bolt head of a screw or nut to a larger surface and to distribute it. One of the most common types of washers is the washer, also called a shim washer.
In softer materials washers are designed to prevent the surface from tearing out during tightening and to ensure that the bolt head does not sink into the material. A special form of washer is the shim washer, which is also available in various thicknesses and is used to set a specific distance between two round parts.
Lock washers – for example from SCHNORR® – are mainly used in areas where loosening of a screw connection due to vibrations must be avoided. With their conical shape and through the helical toothing the lock washers achieve an optimum frictional connection with the highest form closure at the same time.
Applications for spring washers
Spring rings, also known as snap rings, are used in bolted connections as a locking element to prevent the bolted connection from unintentionally turning loose or coming undone.
The rings have a rectangular cross-section that is cut open and slightly deformed at one point. This creates elasticity. The spring rings are inserted between the screw or nut and the contact surface of the component to be clamped, so that the ring is compressed during tightening and exerts pressure (= resistance) on the thread.
This stores the clamping force and the ring ensures that the interconnected elements do not come loose again by themselves.